Iceland is easily one of my most favourite countries I have visited. Not only was it my first solo trip, I also ambitiously decided to travel around Iceland's entire ring road in just 4 days. While I would definitely recommend additional days, if you don't have them it's still worth the adventure to cram it all in. Read on to see my itinerary and recommendations for places to visit!
Recently, I went to Iceland and ambitiously decided to try and travel around the ring road and see as much as I could see in just 4 days!
I decided to go to Iceland on quite a whim. I was super annoyed I hadn't traveled recently, bothered nobody wanted to come with me, and just over the whole working thing. So naturally, I looked up flights and Iceland was the cheapest one!
Boom. Decision made.
There were less than 5 weeks from when I booked my flights to when I was leaving on my first solo trip!
I had six full days plus two travel days. I had read that Iceland wasn't that large so you could drive around the entire thing. The total distance was less than half of the distance I drove when I moved across the country to Alberta. It just so happened a road trip was on my 28×29 list. I stumbled across a TripAdvisor post about driving the Ring Road in four days and my itinerary was set.
After a bit more research, I discovered although my flight was cheap, everything in Iceland was quite expensive. So I did what any rational, solo traveler with a backpack on a budget would do and purchased some backpacker meals and oatmeal packets for breakfast and dinner. Top it off with a box of Clif bars for lunch and I was set to save all of the dollars on food!
Iceland's Ring Road in 4 Days – Itinerary Overview:
Day one: Blue Lagoon + Reykjavik (72km)
Day two: Reykjavik > Vik (201km)
Day three: Vik > Egilsstaðir (441km)
Day four: Egilsstaðir > Akureyri (256km)
Day five: Akureyri > Reykjavik (152km)
Day six: Golden Circle (240km)
Day one:
The first stop when I landed was the Blue Lagoon, which seemed like the perfect way to start a trip! It's on the way to Reykjavik so I would say stop on your first day or plan to go just before the airport when you leave. This place, though definitely touristy is absolutely 100% worth it. The water was so beautifully turquoise thanks to all the silica reflecting the sunlight. It was so warm and relaxing. The steam was refreshing as they gave you a face mask. I could have soaked in the lagoon for the entire day.
After the lagoon, I drove to Reykjavik and spent the rest of the day adventuring the city. It's such a charming city and the people seemed incredibly nice. I adored all the bright colours on the houses, the views beyond the water, and some of the coolest buildings.
Day two
I woke up bright and early excited and eager to start my road trip driving around the ring road in Iceland in just 4 days. Based on the drive from the airport, I was so excited to see all the landscapes. Iceland is like a fairytale with scenery right out of fantasy. I learned this day that there are many many waterfalls to take in; the first of which I saw was Seljalandsfoss. You're able to walk behind this waterfall which provides the coolest vantage point to see the falls.
From there I decided to head a bit further off the ring road to find Gljúfrafoss. Naturally, I didn't do nearly enough research before going so I assumed this waterfall was up the mountainside a bit. I hiked up for probably 45 minutes before I gave up and assumed I wasn't going to find the waterfall. I headed back down and saw some people on the other side of the ridge so I gave it another shot. Turns out you have to walk along the stream, scale a bit of a rock wall while holding onto a chain and then you're rewarded with the prettiest waterfall coming through into the little alcove.
After Gljúfrafoss I was on cloud nine. I was so proud of myself for not giving up, for being brave enough to go through the darkish crevice and climb along rock walls. I was so enamoured with how breathtaking the waterfalls were. I felt like I was on another planet.
Next, it was onwards Skógafoss where I was rewarded with a beautiful rainbow over the waterfall. This was seriously shaping up to be the best first day of my adventurous solo road trip. At Skógafoss you're able to climb up stairs (527 of them!) and hike the trail along the water that runs down to the waterfall, which is called the Fimmvörðuháls Mountain Pass. The trail provides some of the most beautiful views – I really could not get enough of the landscapes in Iceland. It really is otherworldly.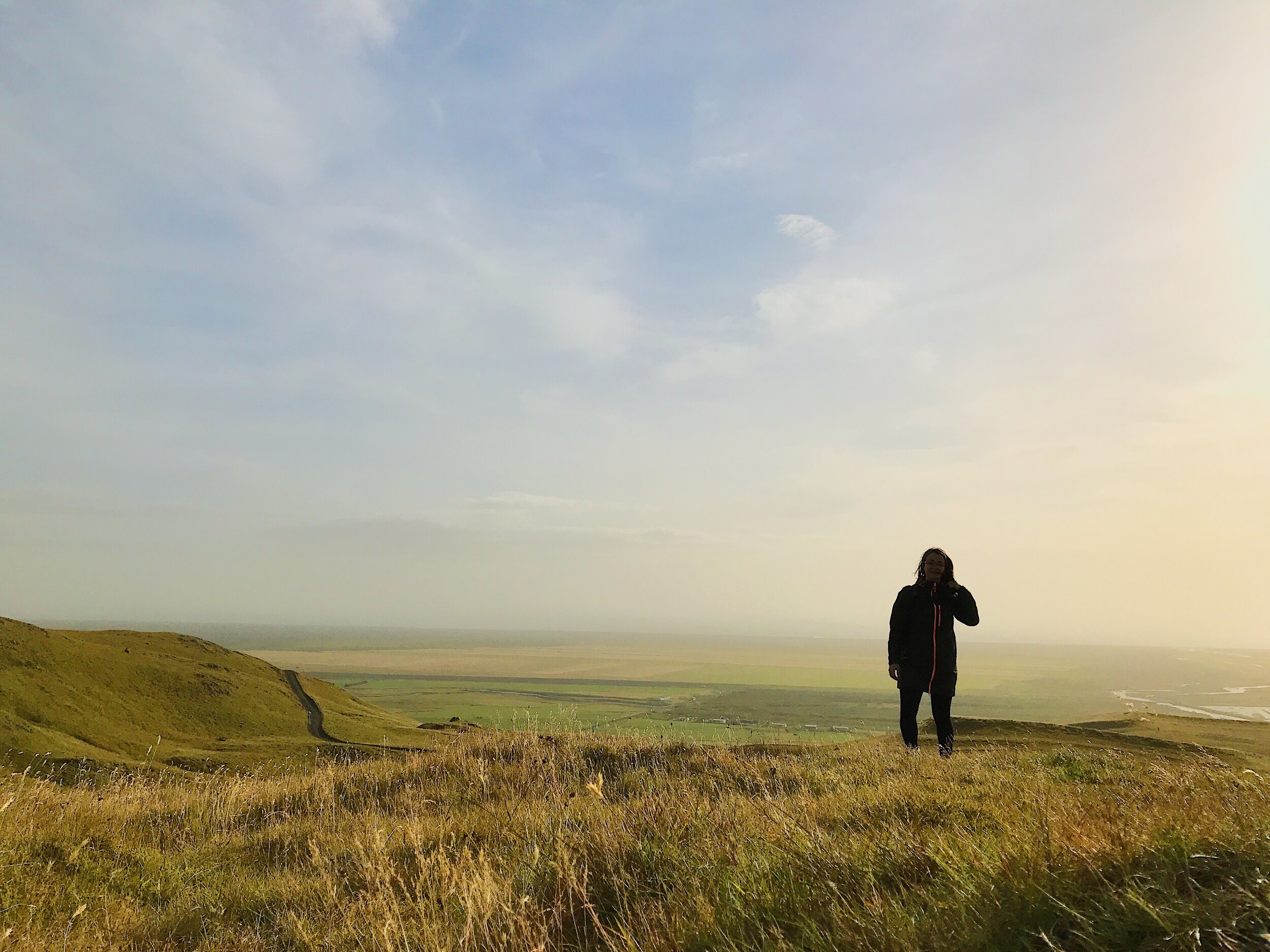 The final stop before I got into Vik was the black sand beach with an abandoned plane crash. The sign at the beginning of the path warned it would be incredibly windy and would take three hours. I, however, did not listen and figured I could take my raincoat windbreaker off since it was no longer rainy. I also thought the sign must be lying because the dot on google maps did not seem too far away. I was wrong on both accounts and endured what was the windiest 45 minute walk of my life. The plane wreck was pretty cool. Apparently, I missed the epicness that is the cliffs along the black sand beach but by this time my day was quite long and I wanted to get to my hostel and get some food in my tummy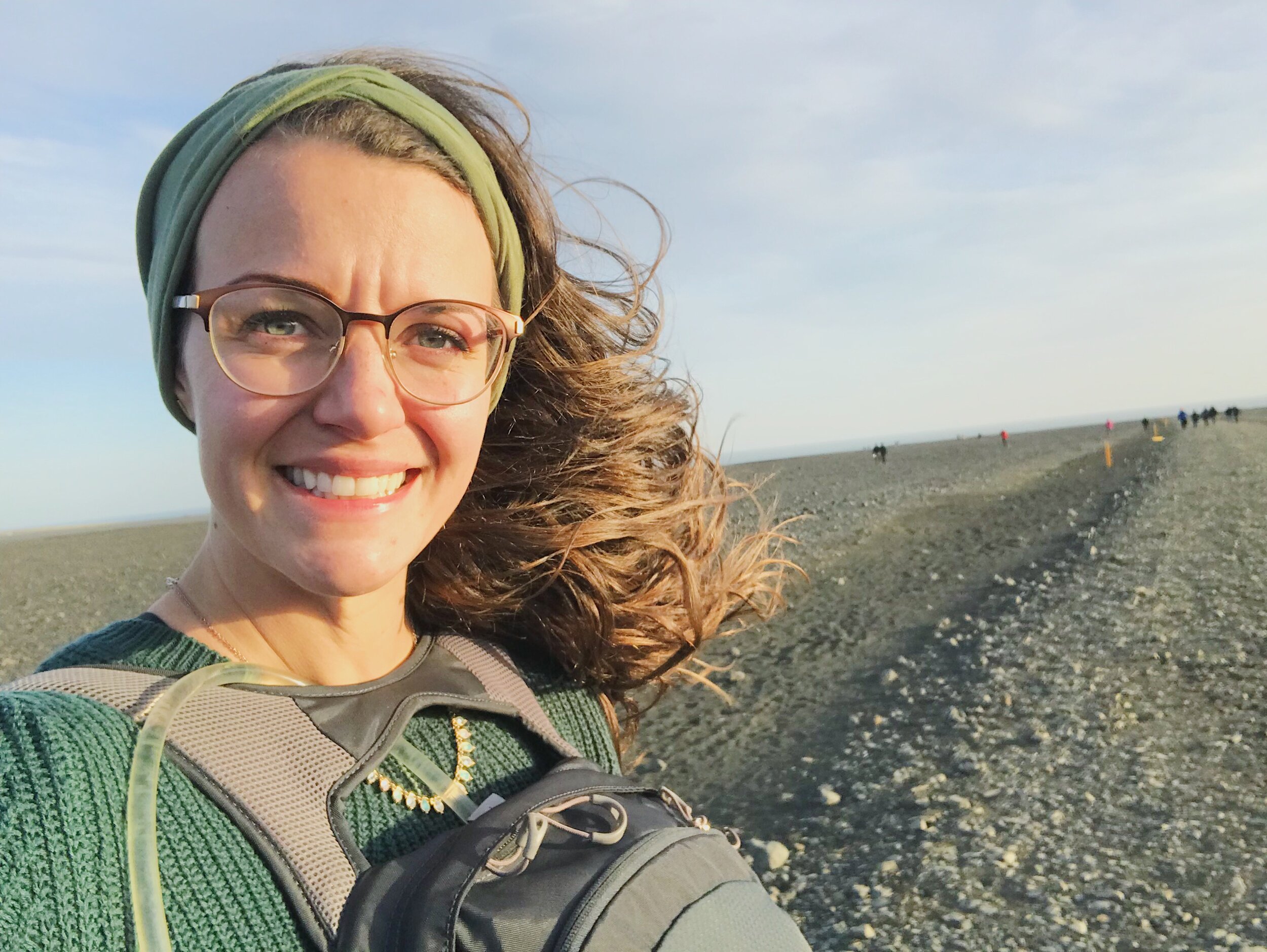 Day three:
Today was the longest planned drive of the whole ring so I got up early and head on my way. If I had more time, I would have spent a couple days in Vik. It looked like there were some pretty cool hiking spots. On the agenda for day three was Diamond Beach, a glacial lagoon, Svartifoss, and of course the most beautiful landscapes out the window the entire way.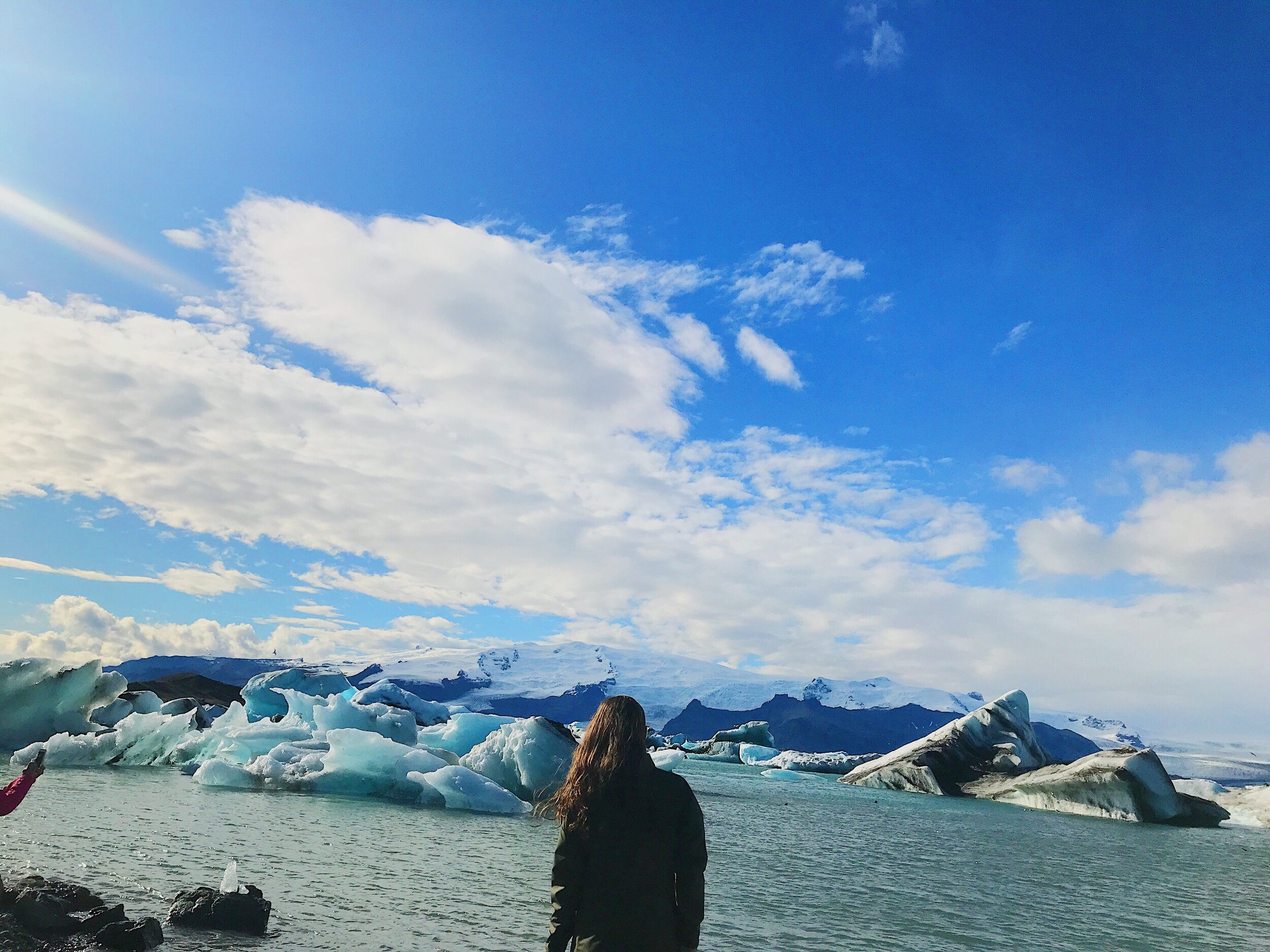 Day three ended with quite the stress. I had a friend tell me to "keep going, it seems like you're going the wrong way but just remember you're literally going up and over a mountain."
Little did I know, Highway 1 had been rerouted to continue along the coast in the year between my trip and hers.
So, needless to say, I turned left and took the mountain pass. This led to 90 minutes of pure anxiety as my little Kia Rio attempted to drive up steep gravel roads littered with potholes. It was also raining, which, at the top of a mountain turned to snow. All the turns were super tight and there were no guardrails, just steep drop offs. I'm fairly certain I closed my eyes for more than half the drive but somehow I made it to Egglistaðir. I decided against continuing on to the next town where my hostel was booked (since it was up and over a mountain, though this time paved). Instead, I splurged and stayed in a hotel, got a glass of wine, and ate my backpackers meal in style.
Day four
I woke up in my cozy hotel bed amped up and ready to take in the day. I got down to check out and the lovely concierge informed me there was a snowstorm and the buses were turning back so I should wait an hour before leaving. Cue up another panic attack at this point. I wasn't sure if I was going to continue on my trek around the ring road after the previous days events or just turn around and drive the coast back the way I came since it was familiar. After some back and forth, I decided I was going to turn back, only for the concierge to inform me an hour and a half later when I went to leave again that turning back was actually the note dangerous route due to some super windy conditions. Ultimately, I continued in towards Akureyri. The photos below really captured exactly how I was feeling during this stretch of the drive, which really is quite a shame because I've heard the northern parts of Iceland really are a sight to be seen. I'll just have to go back at some point!
I finally arrived in Akureyri and it was the most adorable little town. I explored for awhile, ate some food, and stayed in my very first capsule hostel. This was an experience in and of itself – I thought for sure I would feel claustrophobic, but I absolutely loved it!
Day five
By this point I was simply eager to get back to Reykjavik. I didn't want to drive anymore — guys, let me confirm it here, driving the entire ring road in 4 days while doable, I officially do not recommend. There are so many beautiful sights to see! Even just a couple more days would have been excellent and I think would have remedied the rushed and exhausted feelings I had. I spent most of day five just driving back to Reykjavik. The views were still incredible, just like the rest of the ring road. I was surprised to come up to the Hvalfjörður Tunnel, which is an incredibly long tunnel (5.7km!) and it gets quite steep. I clearly didn't do enough research before my drive. Me and my anxiety managed to make it through and it was a really cool experience.
Day six:
For my final full day in Iceland, I headed to the Golden Circle to take in some sights closer to Reykjavik. I started the day in Þingvellir National Park. Some snow made its way into the weather forecast so rather than drive in it, I decided to find a waterfall that was close by. Seeing the frost as the water hit the rocks at the bottom was beautiful! Definitely a different waterfall experience than the others I had to date.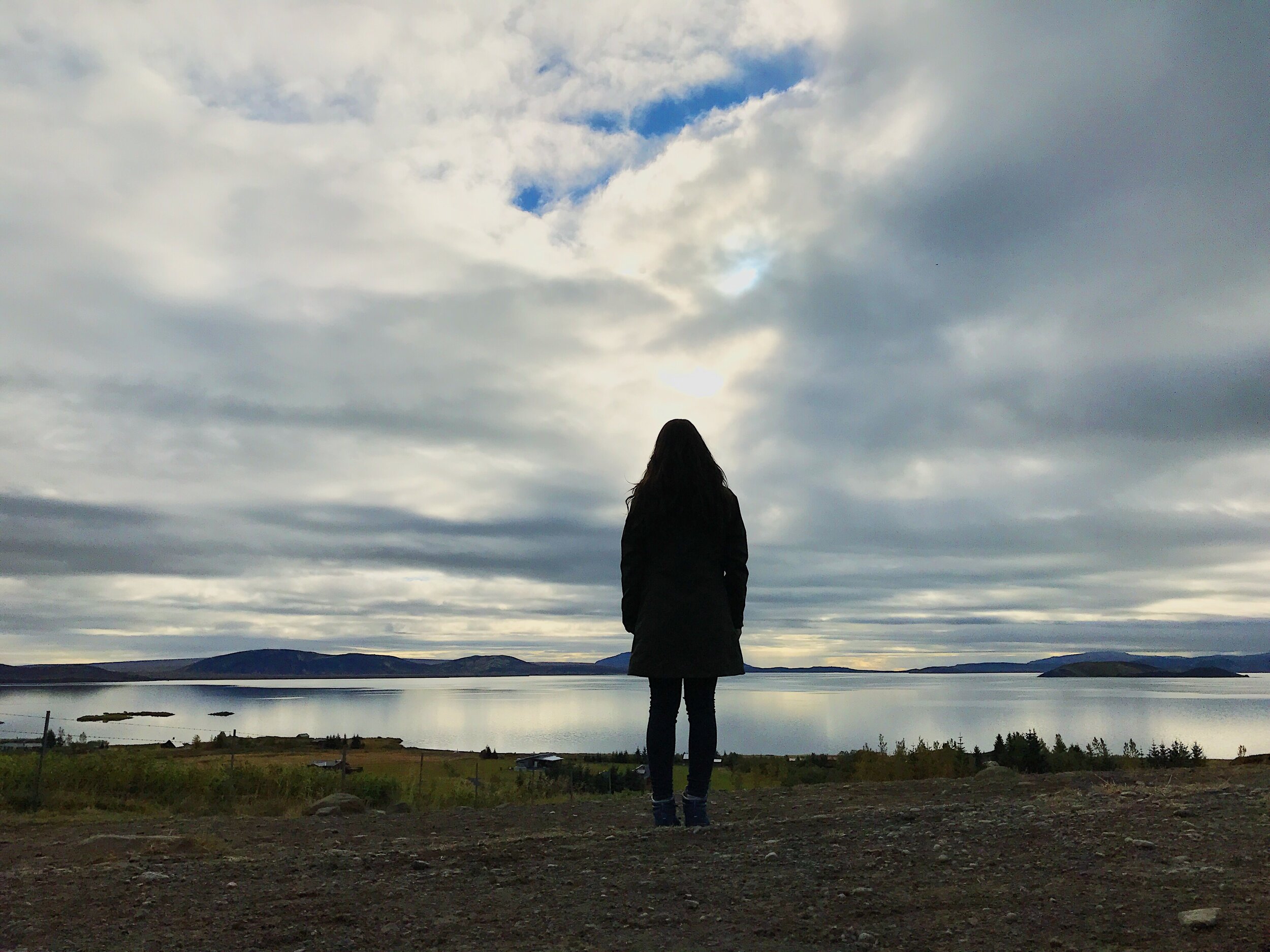 When the snow let up, I headed towards Brúarfoss. I had read this was a bit of a hike from the parking, but, was entirely worth the trek.
I was determined to make it there.
I hiked a good 4km round trip according to my google timeline. I passed some horses on my way, walked through a ton of mud, and took in the beautiful, rich autumn colours around me. Even if it was just a hike with no waterfall as a reward at the end, it was beautiful.
When I finally turned the corner to see Brúarfoss there were no words I could use to capture how I felt.
I hadn't seen pictures prior and the beauty of this waterfall simply took my breath away. There are a million little crevices that all come together in the middle to the most beautiful, vibrant turquoise little waterbody. It was by far the highlight of my trip and a vision I won't ever forget.
Needless to say, post Brúarfoss I was on cloud nine.
Mother Nature agreed and even gave me a rainbow! I was pretty happy with my self-portrait skills with my handy dandy little tripod.
Following Brúarfoss, I was headed to the Geysir geothermal area to see some geysers erupt. This whole phenomenon is pretty sweet. Strokkur erupts every 5-10 minutes and the power of the water shooting into the air sounds incredible. It's definitely worth hanging out to watch a time or two. I wish I had captured a shot of the water shooting into the air but sadly I only recorded it.
Following the geysers was the last waterfall of the trip, Gullfoss. This waterfall was definitely one of the larger ones I had seen and reminded me of the beauty of Brùarfoss I had seen earlier in the day with its multi-level cascades of water.
The final stop of the day was Kerið, a volcanic crater lake along the Golden Circle. There was a small fee to be able to visit, but it was worth it to me.
The colours were so vibrant and photos really do not do justice of just how deep and wide it is. Try to see the people in the photo on the other side of the crater's edge – they're tiny! It's unlike any of the other natural wonders I had seen along my journey around this beautiful country, which leads me to my conclusion that Iceland is indeed otherworldly.
Overall this trip was one I'll never forget.
It was my first solo trip and I stretched myself far beyond my comfort zones. It was a huge adventure and the epitome spontaneous. Ultimately, I was rewarded with the most beautiful week of my life so far.
I highly recommend anyone who is thinking of going to Iceland to book the ticket and go!
Have you been to Iceland before? What was your favourite sight to see?
Related